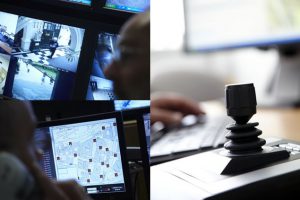 In 1999 a Community Safety Audit of Derry~Londonderry was commissioned by a cross-sector group representing Derry City Council, North West Development Office and the Community and Business Sector. The audit involved extensive crime pattern analysis, action-planning workshops with key statutory and voluntary agencies, and surveys of businesses and the community using the city centre. The Community Safety Audit recommended that a CCTV Scheme be introduced into the city.
In May 2000, funding opportunities for CCTV Schemes arose via round two of the Town Centre CCTV Challenge Competition and planning permission was sought and granted for 26 cameras. Since then the system has expanded and gone from strength to strength. Initially, CCTV was monitored on an 18 hours per day basis (recorded 24 hours per day). Through the intervening years, City Centre Initiative and its partners added more cameras to the system. In June 2011 the Peace Bridge and Ebrington Square were added to the system dramatically increasing the range and coverage of the system, the monitoring of the city centre was also increased to 24/7/365.
In May 2015 a major upgrade to the CCTV system was carried out by replacing all CCTV cameras that were five years old. The number of cameras was increased to 85. The system is continually being developed and expanded to increase coverage and safety within the city centre. The system is managed through a partnership between City Centre Initiative, Derry City and Strabane District Council and the Police Service of Northern Ireland.
OBJECTIVES
CCTV in Derry~Londonderry is used for the following purposes:
to help to prevent anti-social behaviour and crime.

to work with the police to improve community safety

to reduce the fear of crime by helping the police in the prevention and detection of crime

to help identify, arrest and prosecute criminals

to help police collect information about things that may have been filmed and respond to them

to give us information to help us take action using our licensing powers
We realise that CCTV in public areas may cause worry. There is a national set of rules called the Code of Practice, which is used to make sure that CCTV footage is only collected and kept as it should be. The recordings are kept secure and private.
We work together with the police to ensure we make good use of CCTV footage. Meetings take place where we talk about the best ways to use it.
We will make sure we meet the standard needed to obey the acts of parliament that regulate the capture, storage and release of CCTV footage.  They are the:
Where matters are the subject of criminal investigations, we will provide evidence using the procedures within the Police and Criminal Evidence Act 1996 (PACE).
REQUESTS FOR CCTV FOOTAGE
City Centre Initiative (CCI) are permitted to advise an applicant if we operate any cameras in the area in which an incident has occurred and if those cameras may have recorded an incident. You can make these initial enquiries by email to office@cciderry.com.
However, we are not permitted to release any copies of recorded CCTV footage directly to an applicant.
Requests for recorded CCTV footage must be submitted by either:
1. An insurance company or a solicitor acting on behalf of an applicant.
2. By submitting a Subject Access Request Form
How to submit a request for CCTV footage to assist with a Civil Claim
Any request for CCTV footage to assist with a civil claim should:
• be submitted by an insurance company or a solicitor acting on behalf of an applicant. This provides us with the necessary assurance that any CCTV footage we release will only be used for lawful purposes.
• be sent by email from a company email account
• include the name of the applicant (on whose behalf the solicitor or the insurance company is acting)
• include details of the date, the time and the location of the incident for which the recorded CCTV footage is requested
• include details of the incident
• In the case of a road traffic incident; include details of all vehicles involved in the incident (vehicle registration mark [VRM], make, model, colour)
We intend to respond to any request for CCTV footage within 5 working days, and no later than 10 days.
Subject Access Requests for CCTV footage from Individuals
You can submit a Subject Access Request to be informed of any CCTV footage, currently stored on the CCI's Public Space CCTV system, in which you personally can be seen and accurately identified.
Before submitting a Subject Access Request, please bear in mind:
• It is often unlikely that our CCTV cameras will have recorded any footage that includes images in which you personally can be seen or accurately identified. This is because our CCTV cameras are adjusted to record a wide-angle overview of High Streets, Town Centres and Parks etc, making the footage we record unsuitable for close identification of individuals.
• In normal circumstances all CCTV footage recorded by the CCI's Public Space CCTV system is kept for a period of no more than 31 days, after which it is automatically either deleted or overwritten. In the time it takes to submit and process a subject access request any existing CCTV footage may already have been deleted or overwritten.
Subject access requests for CCTV footage are subject to conditions
All subject access requests for CCTV footage are subject to the following conditions:
• A subject access request will only be considered where the applicant can show reasonable cause to believe that we currently possess CCTV footage in which the applicant personally can be seen and accurately identified.
• A subject access request will only be considered alongside the privacy rights of any other individuals whose image may appear in the same footage.
• A subject access request may be denied if we have concerns about the risk of prejudice or harm to other individuals through their identification.
• You will be required to supply a personal photo identification document (eg. passport or photocard driving licence) with a subject access request for CCTV footage.
Further information and enquiries contact the Data Controller – City Centre Initiative 02871 360169