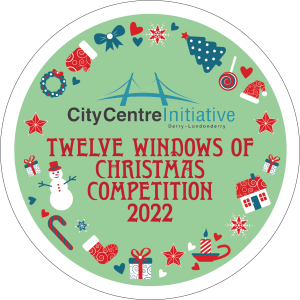 The results are in as the city centre's top 3 Christmas windows are revealed!
As City Centre Initiative's annual Christmas window competition drew to a close on Thursday 8th December, organisers confirmed they had received over 100 entries and nominations and over 1,000 votes for this year's competition.
Following a Mayoral reception for the competition winners at the Guildhall on Monday 12th December with the Mayor of Derry City & Strabane, Councillor Sandra Duffy, CCI confirmed that the competition celebrates city centre business' creative, colourful and luminous window creations, provides a unique opportunity for city centre businesses to gain recognition for their Christmas window efforts and help boost trade in the run-up to the festive season.
Lorraine Allen, Project Manager at City Centre Initiative, said "We received over 100 entries this year to the competition and over 1,000 votes were cast, which is fantastic. It demonstrates not only the willingness of our city-centre businesses to get involved in initiatives that seek to improve our city centre but also the public support for our city-centre businesses and it gives us an opportunity to reward them for their efforts.
"We shortlisted the city centre's best '12 Windows of Christmas' and then handed it over to the public to vote for their favourites on social media. This gave us our top three – 1st The Sacred Tree, 2nd Café Zest, and 3rd The Gift Box.
"We would like to thank our sponsors – the Maldron Hotel, City Hotel and Foyleside Shopping Centre for their continued support for the initiative. Congratulations to our top three, our 12 finalists, and all the businesses that entered or were nominated this year."