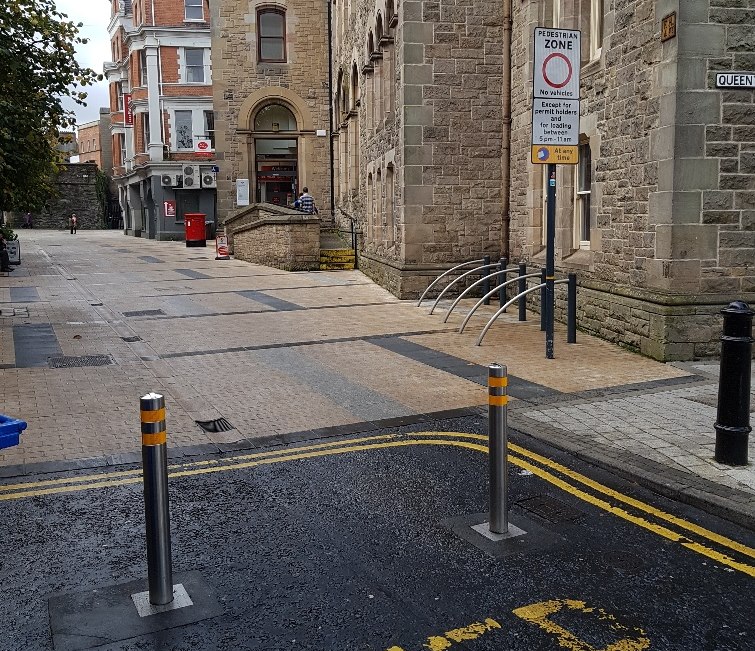 The  City Centre Public Realm scheme involved significant public realm improvement works adjacent to Derry's historic walled city centre, in particular, Waterloo Place and Shipquay Place. The finished scheme has created a high-quality, vibrant and modern urban environment throughout the city centre.
PUBLIC REALM ACCESS TIMES
Deliveries & Loading (5:00pm – 11:00am)
Permit Holders Only area after 11:00am until 5:00pm (Bollards Locked)
Failure to comply with this will result in a penalty charge notice (PCN)
Vehicle Insurance may be 'nil and void' if in a pedestrian zone without the appropriate permissions and permits
We appreciate that on some occasions, some individuals may require access to the pedestrian zone outside of the agreed times. In this instance, it is important to prepare yourself with the appropriate permission and permits from the Department of Infrastructure. This can be done by contacting Department for Infrastructure on 028 7132 1652.
When your permissions and permits have been issued you can contact the CCI Wardens for access 028 7136 0169. We will NOT be able to provide access to vehicles that are not permitted.
The major £7m regeneration project, designed by BDP, is the most significant ever made in public space within the city and has created a high quality, modern, urban landscape in the heart of the city. In addition to public realm work, underground utilities including water and gas mains, electricity and telecoms have all been upgraded and replaced. FP McCann was the contractor on this scheme. The construction works include upgrading buried utility services and drainage infrastructure, removing the old concrete block paving and replacing it with new granite paving, renewing the street lighting with new feature columns, new tree planting, street furniture, pop-up powers supplies for street traders and events, pedestrian crossings, and a new digital 80 nozzle water feature with integrated lighting, outside the Guildhall.
The official unveiling provided the opportunity for the presentation of the CEEQUAL Whole Project Award to Mr Attwood (then Environment Minister). CEEQUAL is the assessment and awards scheme for improving sustainability in civil engineering and public realm projects. It aims to deliver improved project specification, design and construction and to demonstrate the commitment of the civil engineering industry to environmental quality and social performance.
The Department for Communities (DfC) scheme achieved a CEEQUAL Interim Client & Design Award "Excellent" rating in 2009, and a CEEQUAL Whole Project Award "Excellent" in 2010 – both the highest possible CEEQUAL ratings. The Scheme's Whole Project score of 92.1 per cent makes it CEEQUAL's highest-scoring public realm project to date.
During his visit, Mr Attwood said he was confident the refurbishment work would succeed in attracting further private investment while increasing tourist figures to the historic city:
"This scheme has created an attractive, welcoming city-centre space for people to enjoy and has generated tangible economic benefits," he added, "A scheme of this quality highlights the value of urban regeneration."
There are now plans for extending the public realm scheme in the near future inside the Walled City, with plans to redevelop Bank Place, Linenhall Street, Union Hall Place and Magazine Street. City Centre Initiative will continue to monitor the pedestrianised areas and provide access for vehicles at the agreed times in conjunction with the Department of Infrastructure.