THE CITY CENTRE WARDENS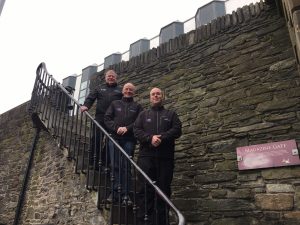 In April 2000 City Centre Initiative initiated the City Centre Ranger Service with the appointment of two staff. In 2018 the rangers were rebranded as the City Centre Wardens and they remain the "eyes and ears" of the City Centre always on the lookout for hazards, problems and providing the important link between local businesses and public agencies with responsibilities for city centre management.
The City Centre Warden's role has changed rapidly over the years, with recent developments seeing Wardens becoming guardians' of Public Access Defibrillators (PADs) situated in Waterloo Place and Dormans Wharf. The Wardens also embrace the latest technology including smartphones, electronic forms and high definition cameras which allows them to send details of incidents and faults on the move.
The Wardens provide assistance with the management of the city walls and assist with their operational running as well as welcoming visitors, offering information and providing literature to guide visitors to their desired locations. The Wardens complete audits on Health & Safety on various aspects of the Derry Walls and assist in areas such as Plant Control, Animal Control, Graffiti Removal and dealing with anti-social behaviour.
The City Centre Wardens control access into the Public Realm Areas by managing and maintaining the bollards in conjunction with the Department of Infrastructure. When in place these bollards help to provide an open, safe and secure pedestrianized zone for pedestrians, an open space for events such as the Walled City Market, The Legendary Food Festival and annual events such as the Hallowe'en Carnival.
The Wardens are a highly visible presence in the City Centre and work in all weathers to promote safety. They are actively involved in drawing up reports and audits on natural dilapidation, damage, repairs, improvements and lobbying for additional services for the City Centre. They communicate with CCTV Control via radio to ensure that incidents and traffic issues have minimal impact on the day to day running of the city centre.
As well as operational duties the City Centre Wardens are also involved in Parades and Events Liaison duties and office-based tasks to assist in the smooth operation of the City Centre. The Wardens compile and distribute information throughout the city centre on a monthly basis to our extensive list of contacts in relation to road closures, lane closures, parades, events and processions.
The City Centre Wardens are on call 24/7, 365 days a year to assist with any emergencies or crisis which takes place within the city centre. For more information on the role of the Wardens and how they may be able to assist you or your business please contact the CCI Office on 028 7136 0169 or email wardens@cciderry.com