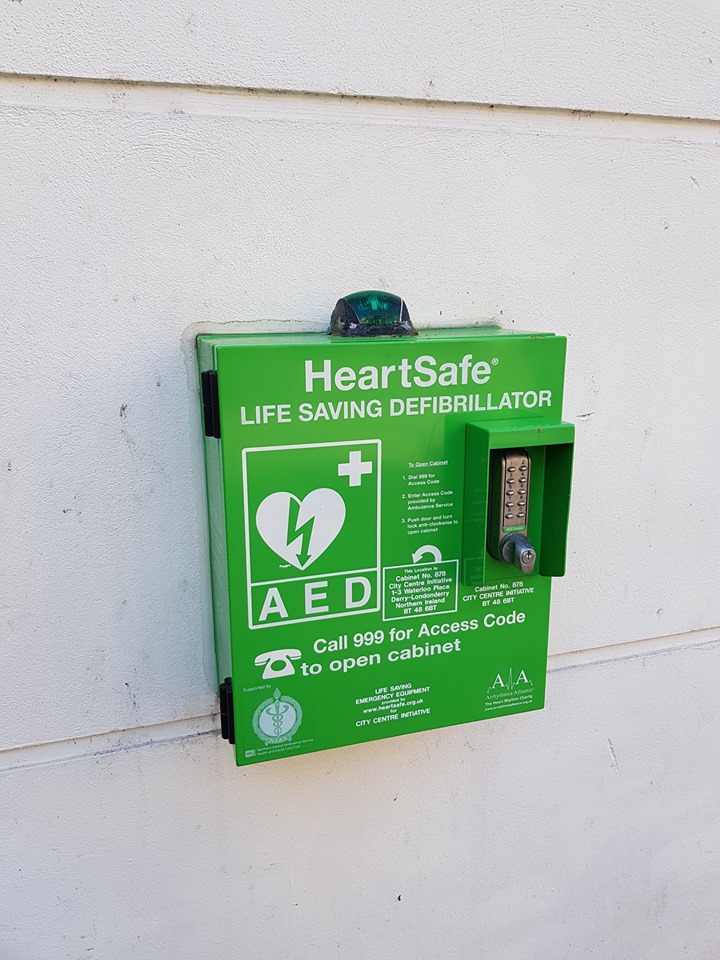 Derry City & Strabane District Council and City Centre Initiative worked in close partnership to deliver the first public access defibrillators to Derry's city centre. Public Access Defibrillators will make a difference in the well-being of the people of Derry~Londonderry.
Jim Roddy, City Centre Manager of Derry City Centre Initiative said he was delighted with the "partnership approach" to the project and the effort made by the various agencies to successfully deliver it. He added, "there are so many people that die each year from sudden cardiac arrest that it is crucial that public access to these devices is made available".
Clive Setter of HeartSafe® AED Locator said "A HeartSafe® Public Access Defibrillator will make a difference for the wellbeing of the people of Derry, Londonderry. When every second counts and any time delay will make a difference to the life or death of a person who has suffered a cardiac arrest, having immediate access to this life-saving piece of equipment is proving to be vital in assisting casualties in an emergency situation. A HeartSine defibrillator will now be available 24/7 in the busy shopping area at Waterloo Place, Londonderry. This AED seen by many experts as the very best AED available for use by laypeople as well as trained personnel is the only British manufactured defibrillator, proudly made in Belfast". He added "Placing such an important life-saving piece of equipment which operates alongside the Northern Ireland Ambulance Service will now become a common feature within the City walls".
In 2016 DCSDC launched a second PAD on the popular walkway at the Atlantic Quay behind their city centre headquarters. Since then other local companies and organisations such as Kelly's Spar & Eurospar have launched PAD's at their city-wide premises.
The City Centre Initiative Wardens continue to monitor and maintain the equipment in Waterloo Place to ensure that it is ready in the event of an emergency. Derry City & Strabane District Council have also launched a second Public Access Defibrillator at Atlantic Quay behind the DCSDC Offices.
The Wardens have also been involved in meeting with traders and private companies throughout the city and further afield in their efforts to fundraise and launch their own Public Access Defibrillators.